As if documenting my girlfriends trip to the Mediterranean on the Travel Channel wasn't enough, I continually feel the need to write about it, too.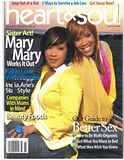 "Sail the Mediterranean" is number three on the "Top 15 Getaways" in the June/July issue of Heart & Soul magazine. I also wrote the sidebar "Traveling in Pairs" that offers tips for traveling with your girlfriends and staying sane.

Click here to read the stories.