One of the best perks about freelance writing is expanding my knowledge and learning about subjects I might never explore without an assignment letter. My article, "Food For Thought: When it Comes to Organic Choices, Experts Reveal Whether 'Green' Really Means 'Go,'" in the May 2009 issue of Upscale magazine changed the way I eat. Speaking with experts about conventional versus organic foods was an eye-opening experience.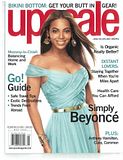 This article was more than just an assignment, it was life-changing for me, and hopefully, for readers, too.

Click here to read the story.